iThrive Edinburgh.
iThrive | Home (ithriveedinburgh.org.uk)
iThrive Edinburgh is the new online mental health and wellbeing resource for those living in our city. The site has a service directory which shows over 190 community and third sector organisations that can support positive mental health and wellbeing. These services can be searched by either locality (SW for Colinton) or Colinton itself. The site also has a self-management page showing you how to best manage common mental health problems such as anxiety, low mood and problems with sleep.
New National Self Directed Support (SDS) service
Self-Directed Support | ENABLE Scotland
National learning disability support organisation Enable Scotland have recently launched their new national Self Directed Support (SDS) service. This service offers the following when seeking to better understand how to use SDS to support a loved one with a learning disability:
- Freephone telephone advice and support
- Providing accessible SDS advice and guidance in a way you understand.
- Online information sessions and peer discussions
- 1:1 support with no time limit.
- Ongoing casework for more complex cases.
- Helping you to understand the 4 Budget Options and what they can mean to you.
- Support with Assessments, Reviews and Person-Centred Planning.
- Advocating on your behalf or representing you with Social work, School, Health or other Professionals meetings (Being YOUR Voice).
- Empowering you to positively challenge decision makers.
- Help to use your social care budget more creatively.
- Empowering you to take control of your support, and find the things that are really important to you and your life.
- Raising Awareness of SDS everywhere in Scotland.
Lothian Centre for Inclusive Living (LCIL) also offer a similar service which can be used by anyone accessing SDS including older adults (+65), those living with a mental illness or living with a physical disability. Home - Lothian Centre for Inclusive Living (LCIL) (lothiancil.org.uk)
Regular testing for people with no COVID-19 symptoms is one of the ways we can all help keep people safe and stop the spread of COVID-19 in Edinburgh. You can find out more about community testing, and access a list of current mobile and permanent venues, on this web page www.edinburgh.gov.uk/communitytesting
If you can't get to those locations, you can order free rapid lateral flow test kits online or by phoning the National Testing Centre on 119.
Almost 1 in 3 people infected with Covid-19 don't have any of the usual symptoms but are potentially passing on the virus unknowingly to family, friends and others in the community. By getting tested people can find out if they are positive and self-isolate at home to stop spreading the virus to others. People who have been vaccinated are also encouraged to take a test as they may still carry the virus.
Free C19 rapid test kits for people without symptoms are now available at pharmacies, including Colinton, Colinton Mains and Napier Craiglockhart Campus Test Centre. The message from NHS Lothian is "Test yourself twice a week to check if you have the virus."
Use the map to find your nearest collection point
You can order free rapid lateral flow test kits online
or by phoning the National Testing Centre on 0300 303 2713.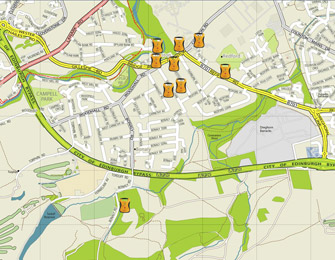 The Colinton Inn has now installed a defibrillator outside the Pub for the benefit of the community. At present we know of seven others sited in local sports clubs, the TA Centre the Library and Colinton Parish Church as shown on the map. Mouse over the image to see a larger version.
These are:
Outside Artillery House, 301 Colinton Road (24hr access)
Colinton Surgery (during surgery hours)
Colinton Tennis Club
Dreghorn Loan Hall (24hr access)
Colinton Inn (24hr access)
Colinton Parish Church - Dell Rooms
Colinton Library - Thorburn Road
Colinton Bowling Club
Bonaly Scout Centre
We want to seek the community's view, so if you have a views on this initiative and know of more defibrillators within the area shown on the map, we'll add further indicators to show these.
This is an evolving project and the more feedback we get from the community, the better.
Let us know your views Contact Us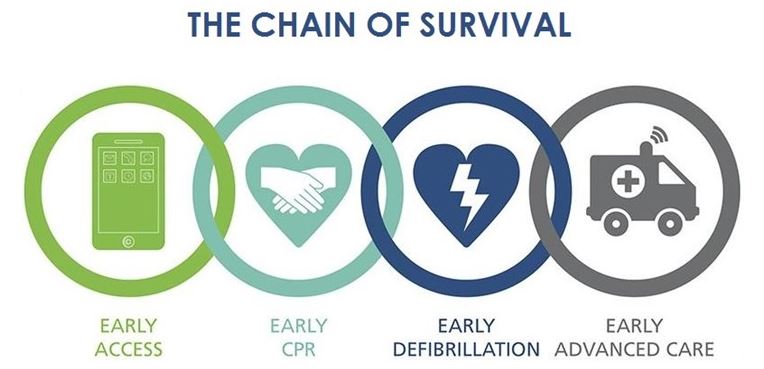 For more information click on the image or go to:
http://www.cardiacsmart.nwas.nhs.uk/about-us/chain-of-survival