Report Roads and Pavement issues to Clarence HERE You have the option to Register with City of Edinburgh Council if you require feedback and a reference number. If you pass on the Reference Number to the Community Council we will follow up on it to ensure the matter is dealt with.
You can also email: roads@colintoncc.org.uk Find information on Roadworks and travel disruption HERE (this section is under development) We also have linked with the Edintravel Map HERE
Gritting routes and grit bin locations can be found HERE
---
As part of the on-going Water of Leith investment to improve the environment, Scottish Water are due to start works on a project to upgrade the CSO (combined sewer overflow) at St Cuthbert's Court on the corner of Westgarth Avenue and Colinton Road.
They have written to say:
"This work will require the closure of a section of Colinton Road between Westgarth Avenue and just beyond Thorburn Road for a period of 4 weeks, starting on the 27th June. These works have been agreed with the City of Edinburgh council and hopefully being timed mainly during the school holidays we will manage to minimise the disruption to traffic.
There will be a local diversion in place via Redford Road, Redford Drive and Westgarth Avenue.
Pedestrian access will be maintained during the work.
A letter has been sent to customers in the area."
Note of Meeting with Lothian Buses Management on 18th May 2022

Cllr Scott Arthur and David Houston, Transport Convener, Colinton Community Council
We met with Lothian Buses (Gaynor Marshall, Communications Director and Board Member and Keith Finlay, Business Development Manager) to discuss major changes to the 10 and 16 services which many people in Colinton rely on. These changes are planned to take place from Sunday 5 June. Broadly, the No 10 route will become a Bonaly only service at a higher frequency of typically 4 per hour and the No 16 route will be extended to Torphin (like the N16) and provide a frequent service of about 5 per hour to Morningside but a longer journey to the City centre.
We started by outlining that many people in Colinton warmly welcomed aspects of the proposals, especially Bonaly passengers, but many residents living along the Woodhall Road/ Torphin Road area had concerns – particularly being deprived of a more direct service to town and regarding children travelling to school.
We expressed concern about the lack of local consultation with Colinton people by Lothian Buses over such a significant change but were told that, currently, they had insufficient resources to commit to consultation on all service changes across Edinburgh. In the absence of this, Cllr Arthur had conducted his own local survey which had quickly gathered over 350 responses, mostly concerned about the impact of the proposals on west Colinton. See: https://tinyurl.com/10and16Buses
Lothian Buses outlined how devastating the effect of the Covid Pandemic had been on their services and profitability, and expressed their concern that financial aid from the Scottish Government was about to end despite their services being months (or perhaps years) away from returning to normal. They noted that public transport recovery in terms of passenger numbers in Edinburgh had been slower than elsewhere, and that city redevelopment projects (e.g. tram works) were impacting on service reliability. It was also noted that Lothian Buses are not fully compensated by the Scottish Government for providing "free" travel for people under 22. This context is important for Lothian Buses as they wanted to communicate that they were not changing the timetable from a position of strength. In particular, to return to the frequency in 2019 when both Bonaly and Torphin had a 20min service was just not possible right now.
They acknowledged that there had been non-trivial reliability issues with the 10 service, but argued that this was partly due to the bifurcation of the No 10 bus route to Bonaly and Torphin (it makes it harder to turn around a delayed bus). It was explained that having a single terminus at the end of the 10 and 16 route would improve reliability.
Lothian Buses accepted that the 16 was a slightly slower route into the city, but argued that this was balanced by the fact that it was a more frequent service than the 10: 12min typically instead of 30min.
We explored introducing a peak time "Torphin 10", or giving people free transfers from the 16 to the 10 at Rustic Cottages, but these were argued to be not commercially viable options. Nor were there any plans to introduce different ticketing, such as a 1 hour pass allowing use of multiple buses, but it was noted the Day Ticket remains an option and passengers under 22 and over 59 would have "free" travel anyway. They did say, however, that they will attempt to ensure the new timetable facilitates changes between the 10 and 16 in Colinton. We pointed out that if Rustic Cottages was to become a heavily used interchange point, the existing bus stop on the narrow pavement needed to be redesigned and expanded to minimise the risk of accidents, especially involving school children. This would actually be an Edinburgh Council responsibility through the Bus Stop Working Party.

They also undertook to provide a free service from the foot of Bonaly Rd to the Bonaly terminus for passengers wishing to access the new No 10 service directly from Woodhall Rd. In the outward direction, Woodhall Rd customers would still have the choice of taking the Bonaly 10 to Bonaly Rd or the Torphin 16.
We asked why the 16 had not been extended to Bonaly and the Torphin 10 retained and they indicated that was mainly down to the physical difficulty of the 100-seater 16 buses negotiating the narrow Bonaly roads.
Lothian Buses concluded that they intended to proceed as planned, but agreed to keep the situation under review. Any early difficulties will be addressed in the next scheduled timetable change in September but they believe that any major change like this should be given a reasonable opportunity to bed in.
This is not the outcome we hoped for, and it is particularly disappointing given the length of time it has taken to arrange the meeting. Whilst we still have significant concerns about the proposals, we can see that Lothian Buses are in a very difficult position.
The meeting ended with agreement that local residents should have more opportunity to input into any suggested service changes, and we discussed ways of doing this in the future.
Following a very positive meeting between ColCC and CEC's Head of Placemaking and Mobility, Daisy Narayanan, the following key points emerged:
A set of drawings will be made available to ColCC on CEC's latest Bridge Road/Spylaw Street proposals. We will share these with the wider community and feedback comment to CEC. Access to drawings and community consultation were two of our key concerns, so this is very welcome.
CEC offered to review signage on speed reduction at/on the Bridge. In fact our concern is about provision of signage warning of the blind junction and the proposed new crossing, so we have asked CEC to consider this.
It was agreed to progress work on the proposals to which ColCC had agreed; and to pause on the areas where more discussion was needed. We are aware of the potential cost implications of too much delay and welcome this approach. Subject to further ColCC and public consultation, our key remaining objection is to the proposed NW corner build out and NE redesign at the Spylaw Street junction with Bridge Road. Details on this page of the website.
4. It was agreed that these proposals could be Phase 1 of a potentially wider project, which could involve looking at a continuous footway; use of colour/texture to reduce speeds; and looking at the junction with a 'Place' lens, which would involve collaboration and co-design. We understand this will require time, resource and CEC agreement, and welcome the prospect of being involved in future discussions.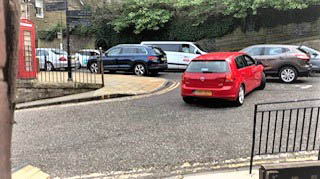 An on-site meeting has been scheduled between ColCC's Transport Convenor and Daisy Naryanan, the Head of Placemaking and Mobility at CEC, to discuss (and hopefully resolve) issues of outstanding local concern about Bridge Road's safety – items 3 and 4 on this list of our original concerns.:
Speeding on Bridge Rd itself (average of 30mph in both directions in a 20mph zone including eastwards round a blind corner)
Lack of a safe crossing for pedestrians from the phone box on the N side to the pavement on the S side of Bridge Rd leading to the westbound village bus stop and the "Broad Steps" up to Woodhall Rd.
Danger of collisions between vehicles emerging from Spylaw St in both directions but particularly turning right towards the bridge. We have lots of informal evidence of near misses and minor unreported collisions. A number of near misses have witnessed.
Danger to pedestrians and wheelchairs at the severely sloped pavement at the NE corner near the phone box where there have been several recent slips and falls with one person badly injured.
The Key Areas of Disagreement at May 2022 are detailed HERE
This meeting at senior level is very welcome, following several years of robust lobbying of the Council and a particularly frustrating time since May 2021 championing our responses to CEC's draft proposals. The ColCC Response of May 2021 can be read HERE
Let's hope local knowledge, expertise and experience count for something; we'll keep you posted.
From January 31st bus travel will be "free" in Scotland for those aged up to 21. Children and young people who are 5-21 years old, however will need a new or replacement National Entitlement Card (NEC) or Young Scot National Entitlement Card (Young Scot NEC).
Details of how it will work are here: https://www.transport.gov.scot/.../young-persons-free.../
Thanks to Cllr Arthur for this information.
Cllr Scott Arthur reported recently on progress affecting Colinton ward. Key points are summarised below.
The November 2021 Transport & Environment Committee meeting set the direction of travel for the schemes impacting on Lanark Road, Buckstone Terrace (A702), Braid Road (outwith the Ward) and Bonaly and Buckstone primary schools.
Lanark Road
It was agreed to progress this scheme to an ETRO. The process provides a statutory framework and public engagement process to consider any future changes to the scheme.
Comiston Road
It was agreed to also progress this scheme to an ETRO. It was agreed at the Transport Committee that changes to Braid Road and Comiston Road are impacting on delays to public transport on Comiston road. The agreed solution to this was to remove a large section of the cycle lane and replace it with a bus lane.
Braid Road
This will progress to an ETRO, and be reopened to two-way traffic. This will only happen, however, after a pedestrian crossing (agreed pre-covid) is installed at The Hermitage.
Schools
A School Travel Plan Review is underway for all schools. This piece of work will be carried out over the next 24 months. The aim of the review is to develop a 5 year action plan with parents, children and the schools to make the routes and streets surrounding the schools safer and to encourage more active travel. Schools with temporary Spaces for People measures are being prioritised and the survey for Buckstone and Bonaly has started. Residents will be involved once the initial plan is developed.
Progress
The ETRO consultations agreed in November 2021 are still awaited.
With thanks to Cllr Arthur.
Following a somewhat controversial local engagement exercise with residents, the Council voted in October to keep the Lanark Road Spaces for People scheme. The scheme will now include time-limited parking outside Cranley Nursery; and outside Dovecot flats the parking will be completely removed with additional spaces provided on the Dovecot park side of the road.
It is expected that in January the Council will use an Experimental Traffic Regulation Order (ETRO) to extend the scheme for 18 months.
It seems this scheme could be one of the first to use the Scottish Government's new regulations in relation to ETROs, partly designed to make it easier to create effective schemes to address the climate crisis.
A community group, South West Edinburgh in Motion (SWEM) has put forward an alternative proposal for the road. More information on that proposal is available at the link below.
Please note Colinton Community Council does not hold any position on the SWEM proposal or linked petition and supplies this material for community information only.