Report Roads and Pavement issues to Clarence HERE You have the option to Register with City of Edinburgh Council if you require feedback and a reference number. If you pass on the Reference Number to the Community Council we will follow up on it to ensure the matter is dealt with.
You can also email: roads@colintoncc.org.uk Find information on Roadworks and travel disruption HERE (this section is under development) We also have linked with the Edintravel Map HERE
Gritting routes and grit bin locations can be found HERE
---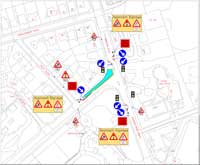 As part of Scotland Gas Networks (SGN) ongoing mains renewal programme in the Oxgangs/Colinton area, the next phase of the works is due to move the mini roundabout at Colinton Road/Oxgangs Road North. This section is likely to have more of an impact on traffic than previous phases. A plan detailing the traffic management set-up vcan be downloaded by clicking on the image on the right. The temporary traffic lights will be manually controlled between 7am and 7pm.
This section is due to start on Monday 20th May 2019 and will run until approx. Friday 7th June 2019.
SGN have a dedicated number to contact should any issues arise, or if you have any specific enquiries about the project please call them on 0131 469 1728 during office hours 8am – 4pm or 0800 912 1700 and their customer service team will be happy to help.
In February 2018 an early evening, 8pm, Monday to Saturday, No 10 service from Princes Street to Bonaly was introduced.
We need to ensure this service is regularly used if we wish to retain it. It is a 'hail and ride' service which can be boarded anywhere from the Bonaly Corner Shop to the top of Laverockdale Crescent, thereafter there is a stop on aveockdale Crescent.
If this service is a success and there is community support for extending it, the Community Council could lobby for:
three truly additional Bonaly evening services, Monday to Saturday at 21.00; 22.00; and 23.00
The proposed additional services could also include:
a loop around Bonaly to Torphin on some or all of the proposed evening services –possibly on the last service of the evening?
We can only lobby for this with community support!
So---what do you think?
Let your Community Council know your views. We welcome your input at: This email address is being protected from spambots. You need JavaScript enabled to view it.