Report Roads and Pavement issues to Clarence HERE You have the option to Register with City of Edinburgh Council if you require feedback and a reference number. If you pass on the Reference Number to the Community Council we will follow up on it to ensure the matter is dealt with.
You can also email: roads@colintoncc.org.uk Find information on Roadworks and travel disruption HERE (this section is under development) We also have linked with the Edintravel Map HERE
Gritting routes and grit bin locations can be found HERE
---
Comments due by 26/1.
CEC are proposing to re-designate key parts of the road network to help pedestrians and cyclists travel safely while meeting physical distancing requirements. In summary, proposals to promote safe travel to Bonaly Primary are:
To prohibit motor vehicles on Bonaly Brae with closure at Bonaly Brae/Bonaly Grove
Exemptions are for residents, pedestrians, cyclists, blue badge holders, emergency services and waste vehicles.

Given the urgency to make the required changes any comments relating to these proposals should be received by 1200hrs on Tuesday 26th January 2021 to This email address is being protected from spambots. You need JavaScript enabled to view it..
All feedback will be reviewed and where possible the scheme will be further refined.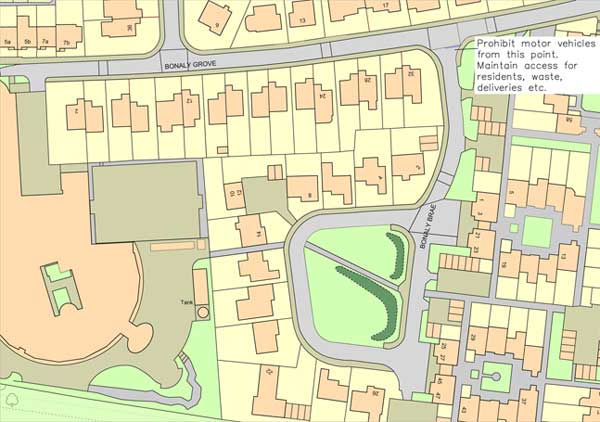 From Sunday 24 January, Lothian will introduce a revised timetable across most services on the Lothian Buses, Lothian Country and East Coast Buses networks to continue to deliver for those customers who still require essential travel.
Our teams have been collating and reviewing feedback received from our customers and drivers in recent weeks, alongside in-depth analysis of new travel patterns generated by the current lockdown.
Key changes for the network will include:
On weekdays, additional morning journeys will be introduced on most services to provide additional capacity for key workers.
Some services will see a slight reduction in evening frequencies as a result of lower levels of customer demand.
Service 3 will serve Dalkeith Campus from Monday to Friday.
Service 37 will serve Easter Bush Campus from Monday to Friday, running every 30 minutes.
Service 47B will only operate at peak times in the morning and evening from Monday to Friday.
Service 15 will continue to serve Easter Bush Campus during the day from Monday to Saturday.
Services 45, X25, X26, X29, X31, X33, X37 and X44 will remain suspended until further notice.
Updated plans for the Lanark Road, Longstone Road and Inglis Green Road route have been made public by CEC. They say that following feedback received the measures have been adapted to maximise the available parking as far as safely can be provided with loading bays being retained. A letter will be sent to residents along the route with a link to the plans which will be added to the Council website. The maps are available linked below. These files are 3Mb each.
For further information about how the Council is implementing temporary road measures to support safe walking, wheeling and cycling please visit www.edinburgh.gov.uk/spacesforpeople
CEC has written to say:
Dear Councillors and Stakeholders
Thank you for your comments regarding the proposed emergency road measures. Comments have been reviewed and are included in the attached assessment feedback form. Following consideration by full Council on 19 November the proposals have been approved for implementation with the following changes:
Removal of floating bus stops from the first phase of implementing the design. We will consider delivering the floating bus stops if required at a later date following engagement with relevant interested parties
Retaining loading and parking bays where possible
Officers will be monitoring all the temporary measures and will make adjustments as necessary to mitigate any impacts.
We expect that these measures will be implemented from Monday 11 January 2021.
Further information about how the Council is implementing temporary road measures to support safe walking, wheeling and cycling is available at www.edinburgh.gov.uk/spacesforpeople
Regards
Spaces for People Team