VILLAGE SERVICES AND SHOPS UPDATE
Bonaly Corner Shop is open, Mon-Fri 6.30am -6.30pm; Sat 6.45 am -6.30pm; Sun 6.45am -6pm.
Bridge over the bypass is still closed, except for residents.
Colinton Parish Church building is closed to the public, but the congregation meets virtually and offers pastoral care and a listening service to all who request it. The church office also matches offers of help with requests for help. Email: This email address is being protected from spambots. You need JavaScript enabled to view it.
Colinton Opticians has suspended all routine eye care; for emergency eye care call 0131 441 5441.
Colinton Arts is closed.
Colinton Inn is closed.
Colinton Library Thorburn Road is closed.
Colinton Pharmacy has returned to normal hours, Mon-Fri 9am-1pm, 2pm-5.45pm; Sat 9am-1pm. Sun closed. Prescriptions can be left in post box and collected later, only one patient in the shop at a time.
Colinton Podiatry is closed.
Colinton Surgery for latest news of Covid-19 and other information please go to www.colintonsurgery.co.uk. 0131 624 9078/0131 441 4555.
Co-op is open 7am to 8pm, priority shopping for vulnerable customers and their carers, Mon-Sat 8am-9am, Sun 10am-11am.
Dantes takeaway only, available from 5pm Tuesday to Sunday. Call 0131 441 7127 .
Dentist in Colinton is closed. Dental emergencies (severe symptoms of infection, bleeding or trauma) are being treated at designated Health Board premises 9am-6pm. First call the Practice mobile 07990 154 787 between 11am-5pm. After 6pm and at weekends call NHS24 on 111.
Dentist Seven Hills Oxgangs is closed. Telephone advice on 0131 4413231 during regular working hours.
Downes Greengrocer is open Mon-Sat 9am-1pm, 2pm-5pm. Closed at 3.00pm on Easter Saturday.
D. Sykes Electrical Contractors is closed.
Fish Van, (J.Gowans) is back in Thorburn Road on Thursdays.
Java Moment Café is closed.
Katesmill and Dell Roads: the bridge over the river at Redhall Weir leading to Katesmill Road is closed due to deteriorating condition; and the path to Dell Road is closed due to landslip.
OLIVE Deli and Post is open and can deliver locally. Mon-Fri 9am-5.30pm; Sat 9am-5pm; Sunday closed.
Owen Gibb & Sons Heating Contractor is undertaking emergency work only. Call 0131 441 7999; or 07738 066 781; email This email address is being protected from spambots. You need JavaScript enabled to view it.
Pizza Connection takeaway only; Tues-Thursday 4.30pm-10.30pm; Fri and Sat 4.30pm-11pm; Sunday 4pm-10pm.
Peaches Colinton is closed.
Pentland Hills Regional Park-all associated car parks are still closed.
Peden & Pringle Kitchens showroom closed, business as usual from home, email: This email address is being protected from spambots. You need JavaScript enabled to view it.
Porteous Funeral Directors are operating by appointment only. For immediate attention call 0131 441 6500. They offer home visits or you can call at their head office at 589 Lanark Road Juniper Green, Mon-Fri 9 to 5; Sat 9 to 1; Sunday appointment only.
Redeemer Church Edinburgh is livestreaming services from 10.30 every Sunday, www.redeemeredinburgh.org.
St Cuthbert's Church building is closed, but the church community meets virtually. For details of online services go to www.scotland.anglican.org/coronavirus-updates. To contact the Rector call 0131 441 7580.
Waddell's Garage is open. Bookings are by appointment and there is a system for dropping off/returning keys. There is no public access so please phone 0131 441 1551.
Worx24 IT support are offering remote support only, call 0131 510 930x240; email This email address is being protected from spambots. You need JavaScript enabled to view it.
Juniper Green and Baberton Mains Community Council (JGBMCC) publish an extensive Newsletter which covers shops and services in the wider area.
Test and Protect starts on Thursday 28th May
Starting Thursday, anyone with symptoms should go to nhsinform.scot or call NHS 24 on 0800 028 2816 to book a test.
If you test positive, you should isolate for 14 days.
The Scottish Government have published guidance on Coronavirus in Scotland at https://www.gov.scot/publications/coronavirus-covid-19-getting-tested/, including who can be tested and how to book a test online.
Update from the Council....
We're reopening all our recycling centres from Monday 1 June on an appointment only basis and restarting the special uplift service.
Recycling Centres
These will reopen on an appointment only basis on Monday 1 June. Residents will need to book a time slot using a new online booking system on our website, from Thursday 28 May. It won't be possible to book an appointment over the phone. We're expecting our sites to be busy and the booking system will help to minimise crowding and help to maintain physical distancing.
Traffic management systems will be in place at each location to help manage queues. We're writing to local residents who may be affected to advise them of this and the temporary local diversions and road closures.
Further guidance:
• Only residents of Edinburgh can book an appointment. When doing so, they should consider:
if their visit is necessary
if they can store their waste safely at home.
• They should be prepared to queue before entering the site.
• Only cars are permitted – no vans or trailers.
• Our staff won't be able to help unload cars at the site.
• We may need to close our sites at short notice.
• Time slots are available on a first come, first served basis and anyone who turns up without a booking will be turned away. Appointments are limited to one per household for the first two weeks of re-opening.
Special uplifts
We're restarting our special uplift service on 1 June and will be accepting online bookings for the collection of bulky items from Thursday 28 May with a maximum of five items per household. We won't be able to collect any items from inside homes. The special uplift service is expected to be busy during the first few weeks, so there may be a wait for collections – please check the council website for updates. Residents can book an uplift on our website though not currently over the phone. Special uplifts are charged at £5 per item and details of what we can and can't collect will be available online.
SCOTTISH WATER UPDATE- WORK RESTARTING IN AND AROUND COLINTON
Scottish Water tell us that....
Works are programmed to start week commencing 25th May, starting with the reinstatement of the footpath at Torphin Road, adjacent to the Camphill (Tiphereth) Community steading. There will also be vehicle movements around the site compound at Torduff Road. We are also writing to nearby customers to inform them of this.
We are also looking at starting work with other elements of the outstanding work. However, we are currently looking at arranging access with the various landowners and do not yet know when this will be going ahead. As soon as we have more details we will share this information. We expect the remaining works to take approximately 3 months to complete.
You can also go to our the project page on the website for updates– https://www.scottishwater.co.uk/in-your-area/investments-in-your-area/south-edinburgh-water-network-investment
We would like to emphasise that work on essential projects will only restart with strict measures in place to ensure safe working practices and social distancing. For more information on our response to COVID-19, please see our webpage: https://www.scottishwater.co.uk/help-and-resources/coronavirus-alert
FUTURE MEETINGS:
DUE TO THE CORONA VIRUS CRISIS, FUTURE MEETINGS IN PUBLIC OF COLINTON COMMUNITY COUNCIL HAVE BEEN CANCELLED.
THE COMMUNITY COUNCIL WILL STILL BE AVAILABLE ONLINE AND WHERE APPROPRIATE PAPERS WILL BE PUBLISHED ON OUR WEBSITE.
ANY ENQUIRIES, CONTACT This email address is being protected from spambots. You need JavaScript enabled to view it.
Last year, a landmark report by the United Nations warned that, unless urgent action is taken, the opportunity to avoid the worst effects of climate change will be missed.
The Climate Change Plan Scotland 2018 set out the continuing actions of Scottish Government to ensure Scotland meets the climate challenge. Following on from this, Scotland became the first country to declare a climate emergency in early 2019 and the Climate Change Bill 2019 set a challenging national target for Scotland to be Carbon Neutral by 2045.
The City of Edinburgh Council recognises the vital role of local government in addressing climate change and in May formally declared a climate emergency and committed to becoming a carbon-neutral city by 2030.
This consultation can be completed by 31st May at https://consultationhub.edinburgh.gov.uk/ce/edinburghtalksclimate/
In October 2019 the City's Transport and Environment Committee recently examined a report on this from a London perspective.
City of Edinburgh Council is also proposing that the City achieve Net Zero Carbon by 2030-7.
UPDATE FROM SGN CONTRACTORS KIER ON COLINTON GAS WORKS
Due to the current situation, all Kier's Gas Work in Edinburgh has been stopped. Re Colinton, Redford Rd has been backfilled and reinstated, traffic lights removed and the site cleared. Kier have been told that they will be returning to site when the Government allows, time scales unknown at this time. During the shut down period, they will be reviewing their works program for the remaining phases and revising estimates for completing the works. They will be in touch with the CC with details when work is set to recommence.
This presentation shows the original programming and sequence of works.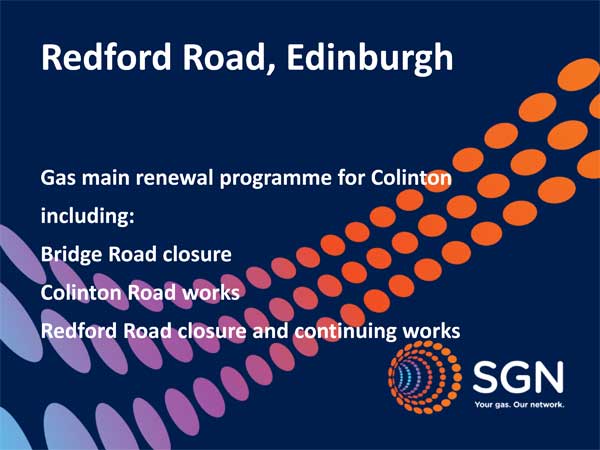 It has been suggested that website visitors might find the following links to local online publications helpful. These are the Colinton Newsletter and Dell Directory
Other links to relevant websites are in our LINKS page