Spring Clean Up in Colinton – Sunday 22 April 2018
A clean-up of Redford Wood will take place on Sunday 22 April 2018, 11.00am to 1.00pm, organised by Colinton Amenity Association, with input from the Scouts.
Volunteers are welcome and are asked to meet up by 11.00am at the entrance to the wood in Redford Neuk. A map of the area of the 'litter pick' is given on the CAA website (click here).
Essential equipment:
Wellingtons or stout boots (or trainers if dry)
Old clothes, gardening gloves (some will be provided)
Wheelbarrows and rakes (some will be provided)
Litter pickers and sacks (provided)
Here's hoping for good weather and lots of willing hands!
UPDATE ON THE BRIDGE ROAD CO-OP
Latest news is that the contractors at Bridge Road are working on the internal fit-out work and the estimated date of opening looks like early May 2018.
We also understand that (after comment by the Community Council in 2017), the Co-op has decided to relocate its satellite dish from the Long Steps to the back of the building.
Tea in the Park
Saturday 5th May 2:30 - 4pm The Shed, Spylaw Public Park
That Swing Thing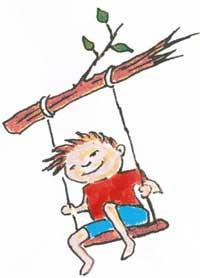 The Swing Cafe at Colinton Parish Church is a volunteer-run community cafe in the heart of Colinton, which is open Monday to Friday, from 10am to 2pm. Located in Dell Road, Edinburgh, EH13 0JR, they serve teas, coffees, home baking and light lunches. All are welcome, children included.
If you'd like more details you can call on 0131 441 2232, or visit www.colinton-parish.com/the-swing-cafe.html.
Did You Know....?
You have two ways to contact our local Police: by ringing 101; or 999. So which to use when?
We asked our Community Police Office PC Graeme Howie and he said:
The Police are always keen to prevent crime, so if you see anything that looks to you like it might result in an incident, you should call 101- even if nothing has happened...yet. Be aware, this is a busy line. Keep trying!
If an incident is happening, then call 999 for a more immediate response.
Did You Also Know...?
The No 10 Bus Service in Bonaly is a "Hail and Ride" service. This means that while there is no specific Bus Stop in Bonaly up to the end of Bonaly Avenue, if you see the bus approaching and want to get on, you can put out your hand to stop it and simply "Hail and Ride".
The monthly Police Reports are now available HERE