Mind the Gap!
What should we do about the chicane in Bridge Road outside the Pharmacy?
Local Consultation
Colinton Community Councillors are concerned about the effects of the chicane caused in Bridge Road by the two parking spaces outside the Pharmacy. The remaining road is narrow, barely sufficient for two cars to pass- though many try. As a result, there are several minor accidents per year removing wing mirrors and/or scrapes and dents. A bus has had a minor collision with a car parked in one of these bays. Buses often do not or cannot pull into the bus stop because of the presence of parked vehicles. Heavy vehicles coming downhill frequently have to brake sharply. Traffic is regularly queued at this point. Unsurprisingly, we have also had local complaints about the narrowness of the road when vehicles are parked here.
But...it is important that there are adequate parking spaces near the Pharmacy and Post Office, particularly for use by elderly or disabled patients; and overall parking availability is important to our local shops and the life of the village.
Colinton CC's position is that these parking spaces compromise road safety and should be repositioned to two other spaces close by, so that safety is improved and the total amenity and the number of parking spaces in Colinton Village is not reduced.
What do you think? Have a look at our proposals and our "before and after" diagrams below in the "READ MORE" section and give us your views to: This email address is being protected from spambots. You need JavaScript enabled to view it..
Alternatively, you can also answer our short questionnaire HERE.

The Colinton & Merchiston Choir presents "Music for Christmas" on Sunday 15 December at 7.30pm. The venue is the magnificent Memorial Hall at Merchiston Castle School, 294 Colinton Road. The performance includes Bach's "Sleepers, Wake!", "Fantasia on Christmas Carols" by Vaughan Williams, and a selection of popular carols. Admission is free, with tea and coffee provided after the concert. Please join us for an evening of uplifting Christmas music. All welcome! For more information – or to enquire about becoming a member of the choir - visit: www.colintonchoir.org

Pentlands Book Festival is 17 events from Sunday 13th October to Saturday 30th November Colinton, Currie, Balerno and Juniper Green. Organised by and for the community, theFestival brings an eclectic mix of events with literally something for everyone.From our acclaimed Scots Makar Jackie Kay to the comedy and murderousthoughts of Denzil Meyrick and Craig Robertson.The popular Scientific Supper and LocalAuthors' Event areback, and we'vevisits to the Schoolof Scottish Studiescelebrating Hamish Henderson'scentenary and anhistorical walkalong the Balerno Branch line withmodel railway displayand exhibition.We've two workshops -one on writing and oneon book illustration.Look at the website for full information and it's all free! To download the Poster CLICK HERE or on the image
A full programme is published on our website www.pentlandsbookfestival.org in the meantime do "like" us on Facebook and/or keep an eye and in Currie and Colinton libraries for further details.
Scottish Gas Networks and Kier, their contractor have completed Phase 1 & 1a and Bridge Road will open on Sunday 3rd November. The full programme with not finish until May 2020 culminating at Dreghorn Link. Details of the individual phases are indicated in a presentation. Click on the images to see the presentation.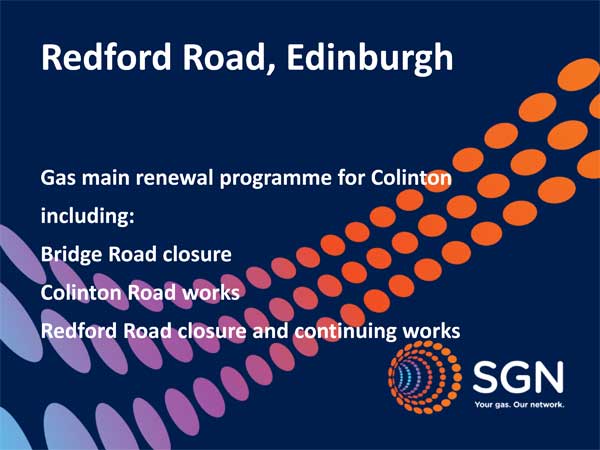 We have prepared some information on Japanese Knotweed for private owners of property. Click this link to read it.
The City of Edinburgh Council have an invasive weeds team to deal with both Japanese Knotweed and Giant Hogweed on Council owned land. For further information follow the links below.
It has been suggested that website visitors might find the following links to local online publications helpful. These are the Colinton Newsletter and Dell Directory
Other links to relevant websites are in our LINKS page