An update on the latest arrangements for garden waste collection have kindly been passed on by our Ward Councillors.
The process is as follows.
The new service starts from Monday 8 October 2018.
Permits and calendars will be posted to residents the week beginning 24 September.
Residents who have not signed up but use any of our kerbside or box collection services will also be sent a letter with information about the next registration window and a new calendar as they may have a change to their bin collection days.
Tiphereth customers who have signed up will continue to have weekly garden waste collections. Tiphereth will provide these residents with a year's supply of tags to attach to their garden waste bags.
The last free collection of garden waste will be on Friday 5 October. Residents who have not signed up for the service should check their current calendars for their last collection before this date. For some residents their last garden waste collection may be as early as 17 September.
The next registration window opens at 9am, 1 October and closes at 12pm, 16 October.
Residents who have not signed up are encouraged to compost their waste or take it to one of our recycling centres.
They can also book a special uplift for their garden waste for £35 for up to 28 bags of waste.
Your Community Council has agreed to promote the idea of decorative Christmas lighting in the village centre and is seeking local opinion and hopes to set up a Steering Group.
Letters have gone to local traders and local organisations and to all E Newsletter subscribers, asking for views, support and volunteers for the Steering Group.
So far we've had very encouraging responses overall- and even some offers of cash!
We'd now like to get views from as many people as possible and would like to know:
Your views and comments on the project
If you are willing to become a member of the steering group
If you are willing to contribute money directly
If you are willing to take part in fund-raising
Please let us have your views by writing to This email address is being protected from spambots. You need JavaScript enabled to view it..
We look forward to hearing from you!
Can you help?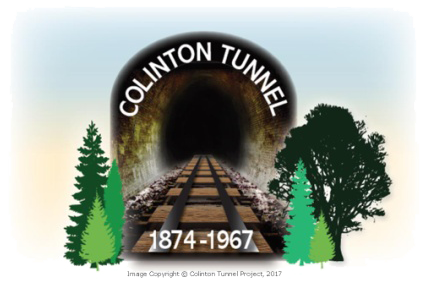 The Colinton Tunnel project aims to turn a dark and slightly forbidding former railway tunnel into a bright, safe and welcoming home for a major mural; celebrating the industrial, social, artistic and literary history of our community. We intend to create a bright, clean, well-lit, safe place that will make people smile. Our website (link & QR below) tells you about it.
We are now a Scottish Charity – SC048476 - regulated by the Scottish Charity Regulator (OSCR). Our charitable status means that we can now begin fundraising, and we're looking for help to do that.
Do you have experience and skills that have successfully obtained funding from grant-making bodies, trusts or other sources? Would you like to see this exciting project achieve its full potential? If so, we could use your help.
Please send your contact details and a brief summary of your skills to Mike Scott (email: This email address is being protected from spambots. You need JavaScript enabled to view it.) or give me a call on 07850-848565. Thank you!