Spylaw Car Park is to close on weekdays from Monday 12 October till further notice. Scottish Water have written to update us on the latest Water of Leith works as follows:
I am writing to provide an update on our work along the Water of Leith. We are now well into work at our site at Juniper Green and are due to start site mobilisation for the Kingsknowe CSO project at Spylaw/Colinton Dell on the 12th October.
As previously communicated, during this time from Monday to Friday Spylaw car park will be closed to public vehicles (with pedestrian access being maintained) from Monday to Friday but will be reopened over the weekend.
Mob: 07875 873 868
Edinburgh's Thriving Green Spaces project in partnership with the University of Edinburgh's PhD in Architecture and Landscape Architecture programme has launched a survey to understand the relationship between the areas that urban park users choose to visit and the activities they undertake. They also want to understand links between urban park visits and people's wellbeing.
This survey is for people who visit or who are planning to visit regularly one of these parks:-
Pilrig Park
Victoria Park
Leith Links West
Lochend Park
Harrison Park West
Spylaw Park
If you visit any of the parks noted above please join the survey here: https://www.thrivinggreenspaces.scot/get-involved/surveys/3?documentId=12&categoryId=3
The City of Edinburgh Council recently launched Edinburgh Talks Climate, starting a new phase of engagement and collaboration around climate change.
In February, we talked to some of the young people attending the Edinburgh Youth Summit to find out what they feel the key issues are around climate change. We also discovered why they felt it was important to be included in work and discussions aimed at creating a better, fairer and more sustainable city.
This week, we have launched a follow-up challenge aimed at the interests of younger people in Edinburgh. We want to know what most concerns people about climate change in Edinburgh and what changes they think need to happen so that the city can become greener and more sustainable. We encourage people of all ages to take part in the conversation.
We have prepared some information on Japanese Knotweed for private owners of property. Click this link to read it.
The City of Edinburgh Council have an invasive weeds team to deal with both Japanese Knotweed and Giant Hogweed on Council owned land. For further information follow the links below.
Notification from the MOD about essential felling in Covenanters' Wood, due to Ash Die Back.
This felling is likely to be of about 150 trees, taking place over the next few weeks.
PLEASE take notice of warning posters and be prepared for some of the woodland paths to be closed for safety reasons.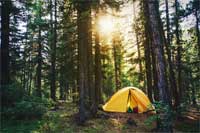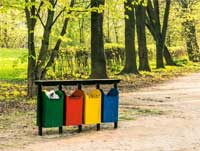 With signs of spring and hopes of summer, experienced camper Peter Byrd's Definitive Guide to Sustainable Camping https://professionalcamping.com/guides/sustainable-camping-definitive-guide) comes to us at a great time. Whether you are a daytime hill walker enjoying the Pentlands, an overnight camper or a serious wild country backpacker, Peter's "Leave No Trace" camping principles and his "Ten Essentials of Sustainable Camping" are an invaluable guide for all of us who want to enjoy and preserve our wonderful countryside.
Local ecologist Nigel Rudd shares his knowledge of Japanese knotweed, giving us the facts- and clearing up some of the fiction- surrounding this prolific plant.
Japanese knotweed (Fallopia japonica) is an elegant herbaceous perennial plant which was imported to Britain by Victorian plant collectors. Popular because of its striking appearance, vigour and size, the species has, in common with many introduced plants, 'escaped' into the wild, where it rapidly grows into very dense stands, reaching heights up to 4m.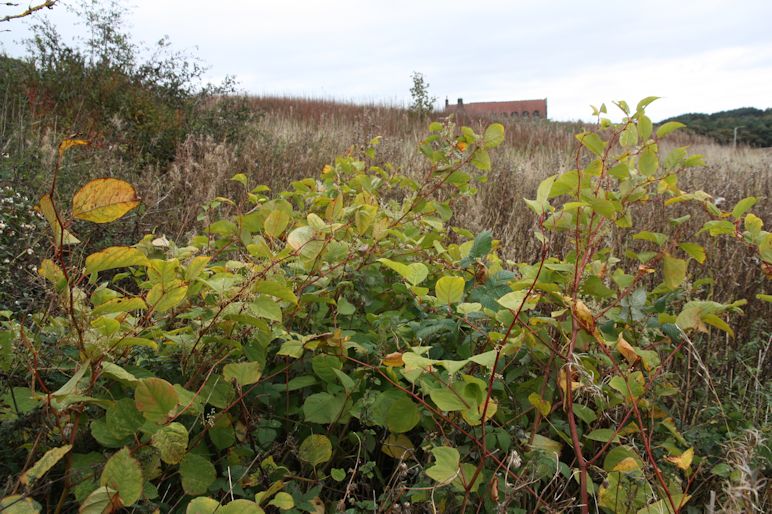 Stand showing typical yellow leaves and red stems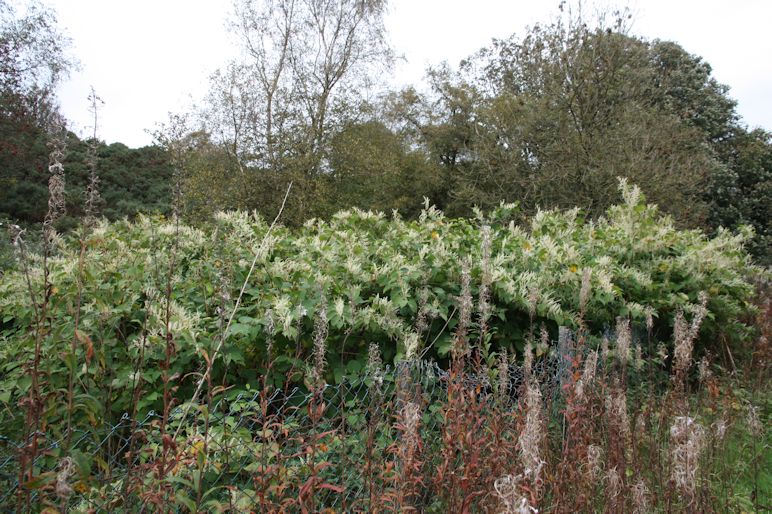 Dense summer stand with clusters of creamy flowers
Why is Japanese knotweed important?
This species threatens the UK's biodiversity because most native plants simply cannot compete with its rapid spring growth (up to 10cm a day); its prolific rhizomes (shoot-producing underground stems), and its habit of growing in dense, single-species stands. It grows almost anywhere - on derelict land, riverbanks, abandoned properties, railway lines, and gardens. Its presence can be the result of previous land use, but very often it arises because of illegal fly tipping. It is widespread throughout Edinburgh, and in Colinton the species occurs in the valley of the Water of Leith, in woodlands and in private gardens.
Can it damage buildings? READ MORE to find out