Update from the Council....
We're reopening all our recycling centres from Monday 1 June on an appointment only basis and restarting the special uplift service.
Recycling Centres
These will reopen on an appointment only basis on Monday 1 June. Residents will need to book a time slot using a new online booking system on our website, from Thursday 28 May. It won't be possible to book an appointment over the phone. We're expecting our sites to be busy and the booking system will help to minimise crowding and help to maintain physical distancing.
Traffic management systems will be in place at each location to help manage queues. We're writing to local residents who may be affected to advise them of this and the temporary local diversions and road closures.
Further guidance:
• Only residents of Edinburgh can book an appointment. When doing so, they should consider:
if their visit is necessary
if they can store their waste safely at home.
• They should be prepared to queue before entering the site.
• Only cars are permitted – no vans or trailers.
• Our staff won't be able to help unload cars at the site.
• We may need to close our sites at short notice.
• Time slots are available on a first come, first served basis and anyone who turns up without a booking will be turned away. Appointments are limited to one per household for the first two weeks of re-opening.
Special uplifts
We're restarting our special uplift service on 1 June and will be accepting online bookings for the collection of bulky items from Thursday 28 May with a maximum of five items per household. We won't be able to collect any items from inside homes. The special uplift service is expected to be busy during the first few weeks, so there may be a wait for collections – please check the council website for updates. Residents can book an uplift on our website though not currently over the phone. Special uplifts are charged at £5 per item and details of what we can and can't collect will be available online.
SCOTTISH WATER UPDATE- WORK RESTARTING IN AND AROUND COLINTON
Scottish Water tell us that....
Works are programmed to start week commencing 25th May, starting with the reinstatement of the footpath at Torphin Road, adjacent to the Camphill (Tiphereth) Community steading. There will also be vehicle movements around the site compound at Torduff Road. We are also writing to nearby customers to inform them of this.
We are also looking at starting work with other elements of the outstanding work. However, we are currently looking at arranging access with the various landowners and do not yet know when this will be going ahead. As soon as we have more details we will share this information. We expect the remaining works to take approximately 3 months to complete.
You can also go to our the project page on the website for updates– https://www.scottishwater.co.uk/in-your-area/investments-in-your-area/south-edinburgh-water-network-investment
We would like to emphasise that work on essential projects will only restart with strict measures in place to ensure safe working practices and social distancing. For more information on our response to COVID-19, please see our webpage: https://www.scottishwater.co.uk/help-and-resources/coronavirus-alert
Last year, a landmark report by the United Nations warned that, unless urgent action is taken, the opportunity to avoid the worst effects of climate change will be missed.
The Climate Change Plan Scotland 2018 set out the continuing actions of Scottish Government to ensure Scotland meets the climate challenge. Following on from this, Scotland became the first country to declare a climate emergency in early 2019 and the Climate Change Bill 2019 set a challenging national target for Scotland to be Carbon Neutral by 2045.
The City of Edinburgh Council recognises the vital role of local government in addressing climate change and in May formally declared a climate emergency and committed to becoming a carbon-neutral city by 2030.
This consultation can be completed by 31st May at https://consultationhub.edinburgh.gov.uk/ce/edinburghtalksclimate/
In October 2019 the City's Transport and Environment Committee recently examined a report on this from a London perspective.
City of Edinburgh Council is also proposing that the City achieve Net Zero Carbon by 2030-7.
We have prepared some information on Japanese Knotweed for private owners of property. Click this link to read it.
The City of Edinburgh Council have an invasive weeds team to deal with both Japanese Knotweed and Giant Hogweed on Council owned land. For further information follow the links below.
UPDATE FROM SGN CONTRACTORS KIER ON COLINTON GAS WORKS
Due to the current situation, all Kier's Gas Work in Edinburgh has been stopped. Re Colinton, Redford Rd has been backfilled and reinstated, traffic lights removed and the site cleared. Kier have been told that they will be returning to site when the Government allows, time scales unknown at this time. During the shut down period, they will be reviewing their works program for the remaining phases and revising estimates for completing the works. They will be in touch with the CC with details when work is set to recommence.
This presentation shows the original programming and sequence of works.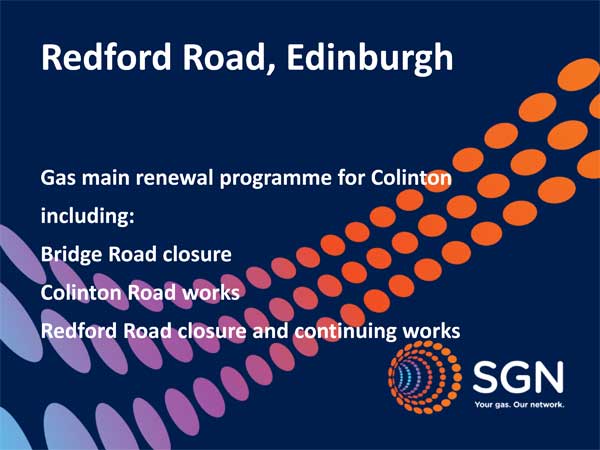 Sniffer dogs being used to help find leaking water mains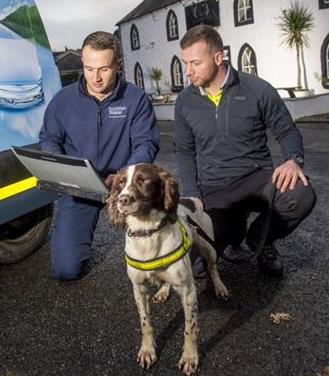 Sniffer dogs are being used to help find leaking water mains for the first time in Scotland in rural areas where the water does not always show on the surface.
Two spaniels, called Snipe and Denzel, have been trained by ex-military dog handlers to detect the smell of chlorine in treated water.
A trial programme in parts of Dumfries & Galloway and Ayrshire surveyed Scottish Water's trunk mains and searched for leaks enabling us to assess whether to use them on an ongoing basis.
During the trial, the dogs found leaks on a 24-inch steel main in the Dalmellington area and on a nine inch main near Lochmaben.
Since 2006, leakage has been reduced by over 50% using a number of modern technologies. However, we are always looking for new and innovative ways to do the job more effectively.
Local ecologist Nigel Rudd shares his knowledge of Japanese knotweed, giving us the facts- and clearing up some of the fiction- surrounding this prolific plant.
Japanese knotweed (Fallopia japonica) is an elegant herbaceous perennial plant which was imported to Britain by Victorian plant collectors. Popular because of its striking appearance, vigour and size, the species has, in common with many introduced plants, 'escaped' into the wild, where it rapidly grows into very dense stands, reaching heights up to 4m.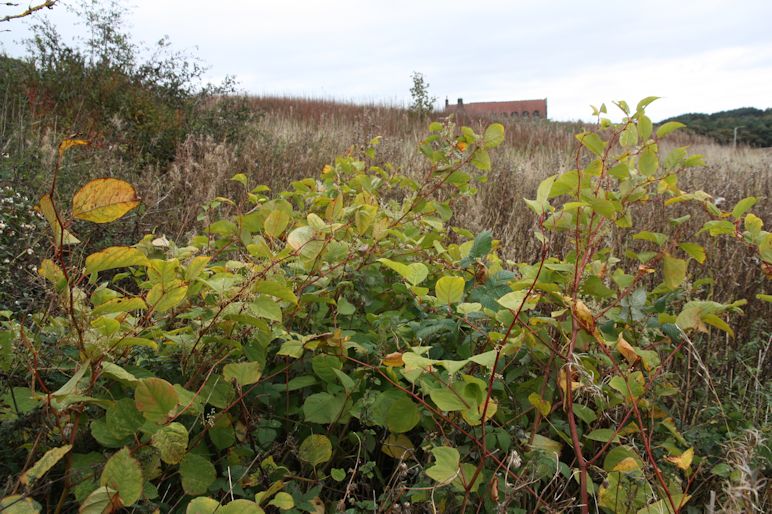 Stand showing typical yellow leaves and red stems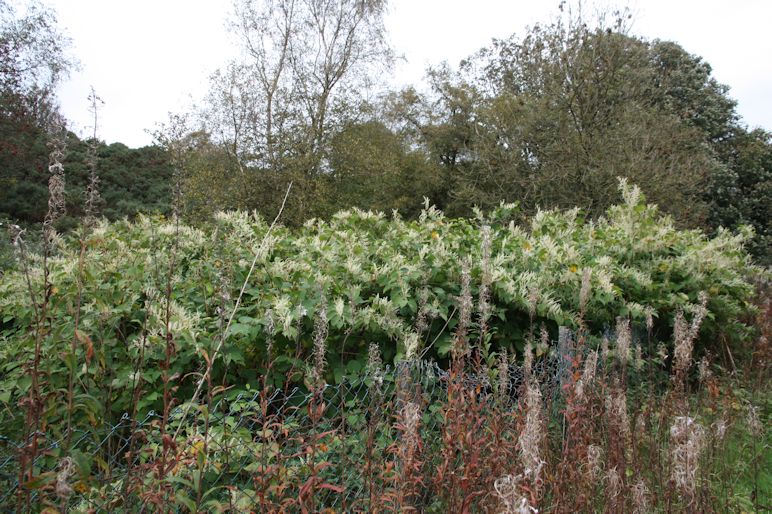 Dense summer stand with clusters of creamy flowers
Why is Japanese knotweed important?
This species threatens the UK's biodiversity because most native plants simply cannot compete with its rapid spring growth (up to 10cm a day); its prolific rhizomes (shoot-producing underground stems), and its habit of growing in dense, single-species stands. It grows almost anywhere - on derelict land, riverbanks, abandoned properties, railway lines, and gardens. Its presence can be the result of previous land use, but very often it arises because of illegal fly tipping. It is widespread throughout Edinburgh, and in Colinton the species occurs in the valley of the Water of Leith, in woodlands and in private gardens.
Can it damage buildings? READ MORE to find out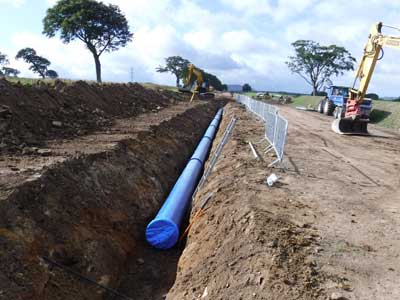 £20million project
A £20 million project to make the drinking water network in the city and beyond more resilient is more than a third complete.
Scottish Water has installed just over 4 km – out of total 12 km – of brand new mains in the southern part of the city which supplies much of Edinburgh and parts of West Lothian.
The investment will allow customers to be supplied from two different locations – Glencorse and Marchbank Water Treatment Works - making it less likely that they are left without water.
The extended network will also have the capacity to link to other existing and future water supplies across parts of the south of Scotland. It will ensure Scottish Water can provide its customers in Scotland's capital city, including a growing number of households and businesses, with fresh water around the clock.
Extra care
The network expansion across part of the Pentland Hills – some of it visible from the city bypass and the A702 near Hillend - has included working in areas where World War One training trenches were constructed. Work is also being carried out in part of the Swanston Conservation Area where any work taking place in April and July requires extra care and consideration due to lambing season and ground nesting birds.