Notification from the MOD about essential felling in Covenanters' Wood, due to Ash Die Back.
This felling is likely to be of about 150 trees, taking place over the next few weeks.
PLEASE take notice of warning posters and be prepared for some of the woodland paths to be closed for safety reasons.
The current garden waste service year ends on 8 November. To continue to receive collections after that date, in the next service year which runs until 7 November 2021, residents need to renew their permit or sign up for one by 2pm on 9 September. Registration opens from 10am on Thursday 30 July.
Important - The current service year for fortnightly brown bin collections was due to end on 4 October but the Council are extending current permits to make up for the service being temporarily suspended in springtime due to the crisis. The crisis also means that the Council are encouraging residents to register online and they have now made this easier by making the use of MyGov optional.
Unfortunately, you're not able to pay in person at locality offices this year as they are being used as community resilience centres for the crisis, but you can also pay over the phone. The charge will remain at £25.
Once paid, the Council will send you a new garden waste calendar and a permit sticker between 23 October and 4 November. There will be another opportunity to sign up to the new service year, but the payment will remain at £25 and permits will be valid until 7 November 2021.
UPDATE FROM SGN CONTRACTORS KIER ON COLINTON GAS WORKS
Due to the current situation, all Kier's Gas Work in Edinburgh has been stopped. Re Colinton, Redford Rd has been backfilled and reinstated, traffic lights removed and the site cleared. Kier have been told that they will be returning to site when the Government allows, time scales unknown at this time. During the shut down period, they will be reviewing their works program for the remaining phases and revising estimates for completing the works. They will be in touch with the CC with details when work is set to recommence.
This presentation shows the original programming and sequence of works.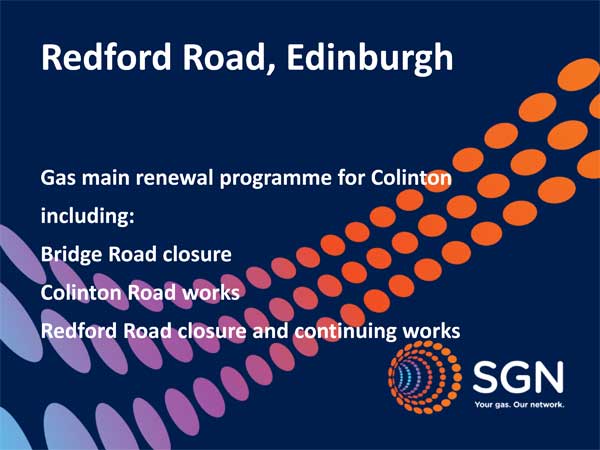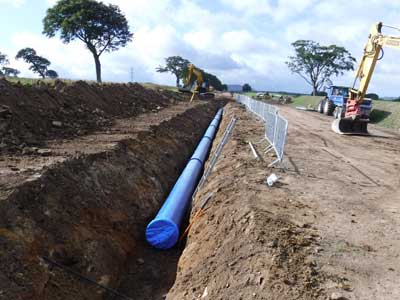 £20million project
A £20 million project to make the drinking water network in the city and beyond more resilient is more than a third complete.
Scottish Water has installed just over 4 km – out of total 12 km – of brand new mains in the southern part of the city which supplies much of Edinburgh and parts of West Lothian.
The investment will allow customers to be supplied from two different locations – Glencorse and Marchbank Water Treatment Works - making it less likely that they are left without water.
The extended network will also have the capacity to link to other existing and future water supplies across parts of the south of Scotland. It will ensure Scottish Water can provide its customers in Scotland's capital city, including a growing number of households and businesses, with fresh water around the clock.
Extra care
The network expansion across part of the Pentland Hills – some of it visible from the city bypass and the A702 near Hillend - has included working in areas where World War One training trenches were constructed. Work is also being carried out in part of the Swanston Conservation Area where any work taking place in April and July requires extra care and consideration due to lambing season and ground nesting birds.
Local ecologist Nigel Rudd shares his knowledge of Japanese knotweed, giving us the facts- and clearing up some of the fiction- surrounding this prolific plant.
Japanese knotweed (Fallopia japonica) is an elegant herbaceous perennial plant which was imported to Britain by Victorian plant collectors. Popular because of its striking appearance, vigour and size, the species has, in common with many introduced plants, 'escaped' into the wild, where it rapidly grows into very dense stands, reaching heights up to 4m.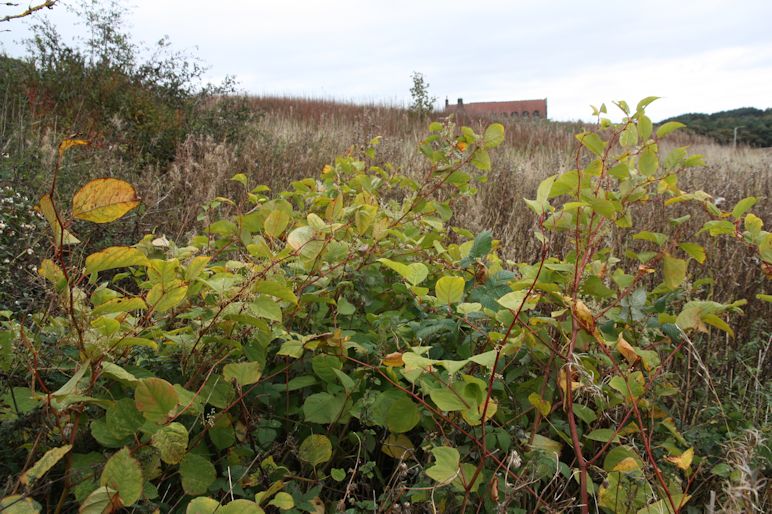 Stand showing typical yellow leaves and red stems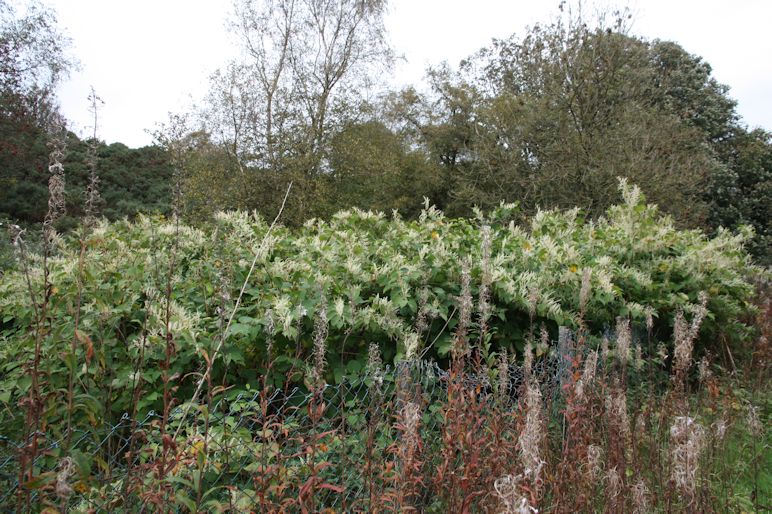 Dense summer stand with clusters of creamy flowers
Why is Japanese knotweed important?
This species threatens the UK's biodiversity because most native plants simply cannot compete with its rapid spring growth (up to 10cm a day); its prolific rhizomes (shoot-producing underground stems), and its habit of growing in dense, single-species stands. It grows almost anywhere - on derelict land, riverbanks, abandoned properties, railway lines, and gardens. Its presence can be the result of previous land use, but very often it arises because of illegal fly tipping. It is widespread throughout Edinburgh, and in Colinton the species occurs in the valley of the Water of Leith, in woodlands and in private gardens.
Can it damage buildings? READ MORE to find out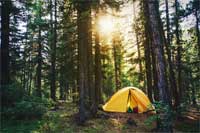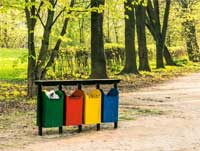 With signs of spring and hopes of summer, experienced camper Peter Byrd's Definitive Guide to Sustainable Camping https://professionalcamping.com/guides/sustainable-camping-definitive-guide) comes to us at a great time. Whether you are a daytime hill walker enjoying the Pentlands, an overnight camper or a serious wild country backpacker, Peter's "Leave No Trace" camping principles and his "Ten Essentials of Sustainable Camping" are an invaluable guide for all of us who want to enjoy and preserve our wonderful countryside.
We have prepared some information on Japanese Knotweed for private owners of property. Click this link to read it.
The City of Edinburgh Council have an invasive weeds team to deal with both Japanese Knotweed and Giant Hogweed on Council owned land. For further information follow the links below.