December 2021 update - Cllr Rust advises that Redford Barracks closure has now been delayed by four years to 2029.
October 2021 update
This is an extract from Cllr Scott Arthur's blog which neatly summarises information on Redford Barracks given in the CEC's CityPlan 2030. Draft Edinburgh City Plan 2030 (wordpress.com)
The Council is assuming that the UK Government will proceed with its plans to close Redford Barracks. CityPlan2030 suggests that Redford Barracks could be redeveloped as a:
"housing-led mixed–use development which draws the surrounding communities together, through the provision of new connections, open spaces and other community infrastructure" and this will draw "the surrounding communities together through the provision of new connections, open spaces and other community infrastructure".
It is expected that there will be appropriate frontages to Colinton Road, Oxgangs Road North and the rear. The existing parade grounds should be kept free from development, and any new development around them must provide active frontages onto these spaces. The security fence will be removed.
It is estimated that the site could accommodate as many as 800 new homes. The redevelopment will respect the history and layout of the site, and it is hoped the War Memorial can be retained (if not, it will be moved). Indeed, it is noted that the site's military history must be interpreted within the new development.
The report notes that there is flood risk on the site which needs to be better understood.
All homes on the site will be adequately served with play facilities, and the recreation area to the southeast will be retained and will form a new community park.
The Council agrees that this scale of development will necessitate improvements to the bus provision serving Colinton (the focus is the 400), and that GP services will also require expansion. The potential for active travel routes between the redevelopment site with schools, Water of Leith etc is also covered.
The site will also have a "Mobility Hub" this is an accessible place which brings together different transport modes alongside associated facilities, services and information to encourage more sustainable travel. These can include a range of shared mobility services, click and collect, electric vehicle charging, etc.
The developer will also fund investment in Firrhill HS and Colinton PS. It is estimated that Colinton PS will require 6 classrooms and a dining/assembly hall extension. For Firrhill HS, a site of around 2.3ha is required for expansion. It is also recognised that additional pre-school provision will be needed.
Possible Development on West Mill Road- Public Responses
The following responses have been received so far:
Most important for almost all respondents were traffic and road safety concerns. Comments raised related to geometry – horizontal and vertical - lack of pavements, increased danger and risks to children, older people and Water of Leith walkway pedestrians - especially in winter. Speeding cyclists are already a local issue.
A number of respondents felt a Care Home was a worse option because of "all-day" (and potentially night-time) traffic, as well as delivery and other larger scale vehicles on this narrow road.
Some referred directly to current Conservation Area and Green Belt status and felt this should not be challenged. Some felt this open green area was specifically important to the Water of Leith walkway.
Some regard the "open space" as valuable in amenity terms, either to preserve their own outlook, or because they regard new buildings as an intrusion on views from Campbell Park and elsewhere. One felt development might adversely affect mental health.
Some wondered if the site could be accessed from the bypass.
One questioned whether £700k houses would help address housing needs.
One asked whether local GPs and Schools could accommodate more people.
One wondered whether we could facilitate an online discussion.
These responses from the community have been passed on to developers Melford.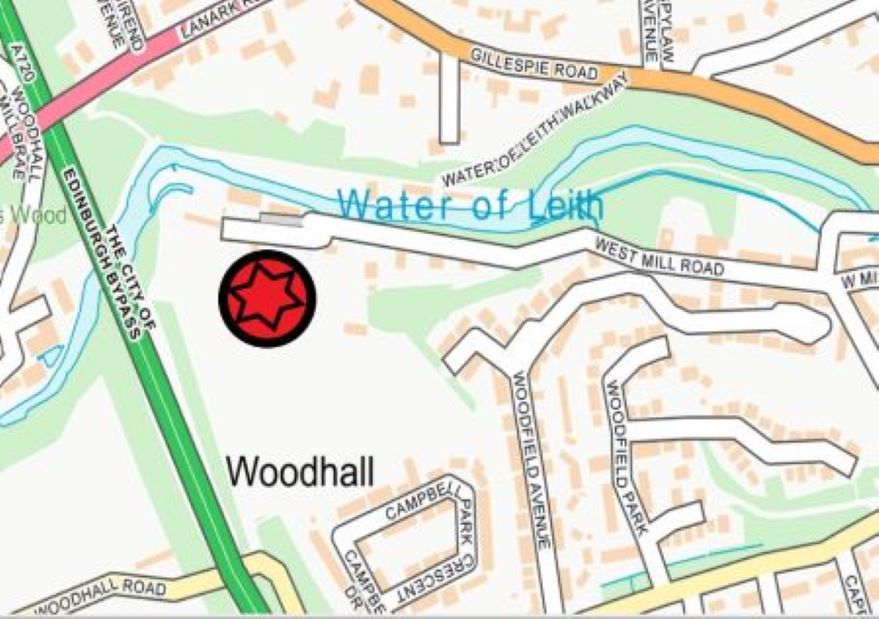 To help meet housing needs for the future, the City of Edinburgh Council is reviewing prospective sites which till now may have been excluded under current Planning policies.
Melford Homes is assessing the potential for residential development on land at the end of West Mill Road and has asked the Community Council to help seek initial reaction from the Colinton community.
No Planning application has yet been made, but if Melford decide to pursue the project they are keen to take account of local opinion and would be happy to engage in conversations about potential community benefits.
They have prepared two sketch schemes: one for 11 detached houses; one for a 60-bed nursing home and 4 detached houses (see illustrations). At this stage finer details are not available.
Houses would be c. 3,000 sq ft (280 sq m) in floor area, and might sell at about £700,000 -£800,000.
Please send your reactions to the Community Council at This email address is being protected from spambots. You need JavaScript enabled to view it..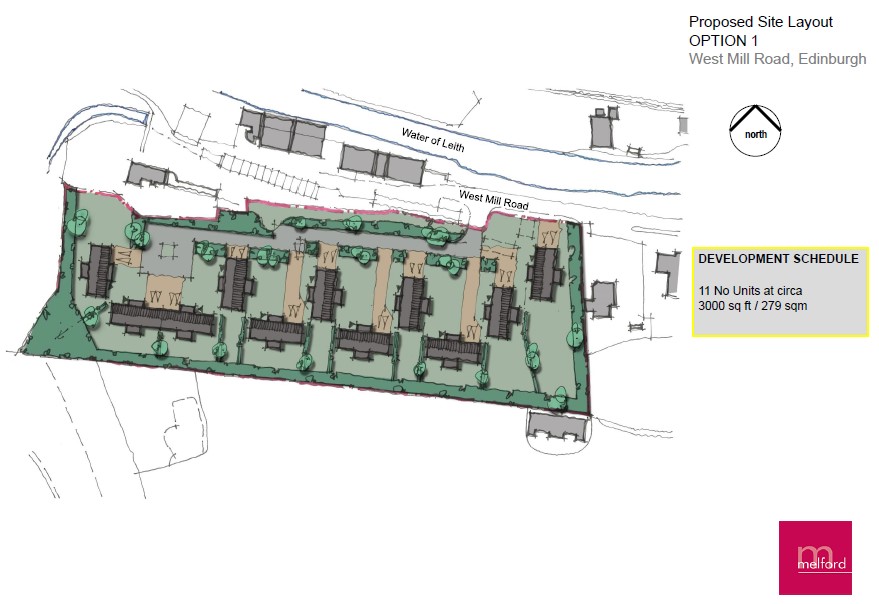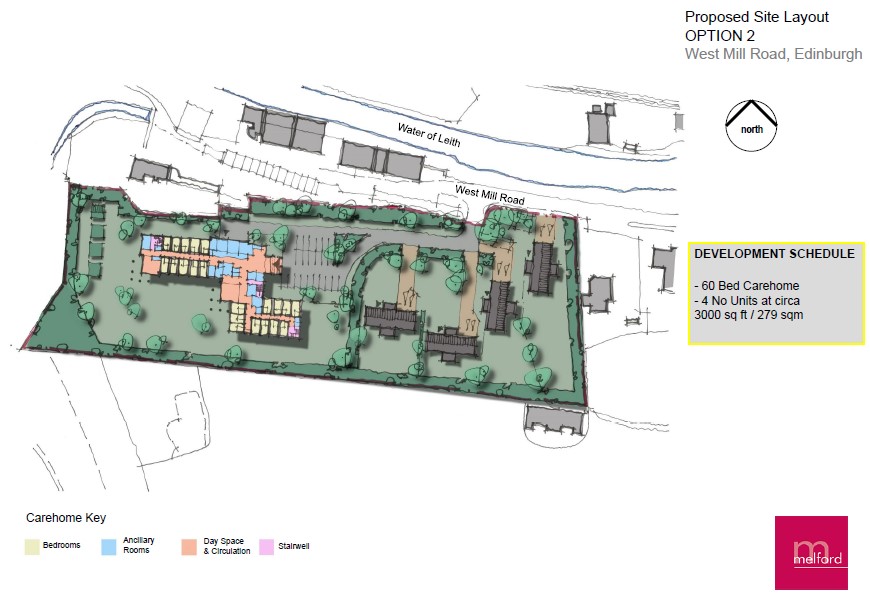 A representation from a member of the public has been received questioning a statement in our last minutes about Tiphereth's proposals. This raises several important points which merit clarification.
For the avoidance of doubt, the statement was a true and accurate minute of our proceedings.


Our correspondent disagrees with the Colinton Community Council (ColCC) view expressed that neighbouring properties would be minimally affected by the design.
Clearly, immediate neighbours are always 'maximally' affected by proposals - whether for good or ill. ColCC's conversation concerned only adverse effects, and the minute could have made that clearer.
As ColCC's judgement is at variance with our correspondent's, it is important we are all very clear about our responsibilities and our own current policies in relation to planning issues of this type. We must also communicate them as clearly as possible to the community at large.
ColCC has a duty to reflect the opinions of our community or significant groupings within it. Generally this will be judged by the amount of representation we receive.


As a statutory body ColCC can make direct representations within the planning process, but this will normally only be justified in matters concerning the community at large or significant groups within it (e.g. large employers).

Unless there is a very clear reason, current ColCC policy is not to become involved in planning issues involving neighbour to neighbour disagreement. (For example house extensions involve balancing the rights of owners to enjoy their property against the effects on their neighbours or the community at large.)


It is ColCC's policy to advise residents about the planning system, explain their rights under it and how to make their case, irrespective of our view of its merits.


All individuals have a right to make representations direct to the planning authority, which can be disregarded if they are not planning matters. A wide range of policies published by the City Council (including detailed advice on extensions) will be the first yardstick applied.
(NOTE: Planning matters can be very sensitive and divisive. Community Councillors are reminded that when talking to members of the public they have a duty to make it absolutely clear whether they are expressing their own views or those of ColCC.)
Tom McDonald
Chair
Colinton Community Council