PROPOSED WORKS ALONG WATER OF LEITH WALKWAY AT COLINTON
Representation to CEC Planning Department Planning Application No. 19/05805/FUL
from Colinton Community Council (ColCC) as a Statutory Consultee
Scottish Water (SW) is currently planning to undertake major works on a sewage pipe which runs along the Water of Leith, which includes areas which impact on Colinton Village. This work is scheduled to start in late February and may take up to a year to complete. While fully supportive of this essential work, Colinton Community Council (ColCC) is concerned to ensure it is carried out in a way which minimises the impact on amenity in Colinton and specifically, access to Spylaw Park, the Colinton Tunnel and the Water of Leith Walkway.
The Community Council is also very concerned at the woefully inadequate public consultation which preceded the submission of SW's Planning Application.
If successful this Planning Application will see the creation of a work site which will take up all of the old Station Car Park at Gillespie Road, which will have significant impact on general amenity and in particular to access from Bridge Road to Spylaw Park, car parking in Spylaw Park, the Colinton Tunnel and walks along the Water of Leith.
Two working group meetings were held in November 2018 and February 2019 with local interest groups to examine what might be considered to form a planning brief for Redford Barracks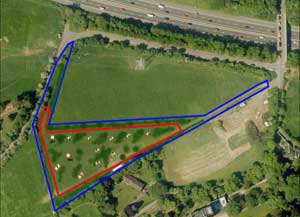 A planning application has been submitted to change the existing hay field just off Torduff Road to camp site with accommodation in "timber pods and ancillary services".
Full details are online for comment: For a larger images mouseover the picture
19/03360/PPP | Change of use of existing hay field to camp site with accommodation in timber pods and ancillary services. | Bonaly Farm Torduff Road Edinburgh
https://citydev-portal.edinburgh.gov.uk/idoxpa-web/applicationDetails.do?activeTab=summary&keyVal=PUIQF8EWLX900
A representation from a member of the public has been received questioning a statement in our last minutes about Tiphereth's proposals. This raises several important points which merit clarification.
For the avoidance of doubt, the statement was a true and accurate minute of our proceedings.


Our correspondent disagrees with the Colinton Community Council (ColCC) view expressed that neighbouring properties would be minimally affected by the design.
Clearly, immediate neighbours are always 'maximally' affected by proposals - whether for good or ill. ColCC's conversation concerned only adverse effects, and the minute could have made that clearer.
As ColCC's judgement is at variance with our correspondent's, it is important we are all very clear about our responsibilities and our own current policies in relation to planning issues of this type. We must also communicate them as clearly as possible to the community at large.
ColCC has a duty to reflect the opinions of our community or significant groupings within it. Generally this will be judged by the amount of representation we receive.


As a statutory body ColCC can make direct representations within the planning process, but this will normally only be justified in matters concerning the community at large or significant groups within it (e.g. large employers).

Unless there is a very clear reason, current ColCC policy is not to become involved in planning issues involving neighbour to neighbour disagreement. (For example house extensions involve balancing the rights of owners to enjoy their property against the effects on their neighbours or the community at large.)


It is ColCC's policy to advise residents about the planning system, explain their rights under it and how to make their case, irrespective of our view of its merits.


All individuals have a right to make representations direct to the planning authority, which can be disregarded if they are not planning matters. A wide range of policies published by the City Council (including detailed advice on extensions) will be the first yardstick applied.
(NOTE: Planning matters can be very sensitive and divisive. Community Councillors are reminded that when talking to members of the public they have a duty to make it absolutely clear whether they are expressing their own views or those of ColCC.)
Tom McDonald
Chair
Colinton Community Council
19/01036/FUL | Application for Planning Permission (PP) for a new residential building, comprising of 11 flats and 2 houses Torphin Road, Edinburgh, with associated infrastructure, landscaping and engineering works. Link to application HERE

Colinton Community Council has yet to discuss the situation with regard to the potential impact closure of Redford Infantry and Cavalry Barracks in 2022 (now est. 2025) and the impact that this may have on our community. Needless to say, the loss of the garrison will temporarily leave a significant vacant space in the community. What replaces it, needs to be carefully considered.
It is likely that in time, City of Edinburgh Council will have to create a planning brief for the, site taking into consideration the listing of both the main buildings, the parade grounds as well as the subsidiary surrounding buildings which are in themselves unique in their own way and it will be difficult for any developer to make any changes of use for them.
We continue to keep a watching brief for developments.