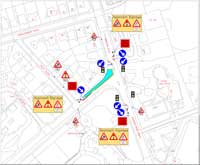 As part of Scotland Gas Networks (SGN) ongoing mains renewal programme in the Oxgangs/Colinton area, the next phase of the works is due to move the mini roundabout at Colinton Road/Oxgangs Road North. This section is likely to have more of an impact on traffic than previous phases. A plan detailing the traffic management set-up vcan be downloaded by clicking on the image on the right. The temporary traffic lights will be manually controlled between 7am and 7pm.
This section is due to start on Monday 20th May 2019 and will run until approx. Friday 7th June 2019.
SGN have a dedicated number to contact should any issues arise, or if you have any specific enquiries about the project please call them on 0131 469 1728 during office hours 8am – 4pm or 0800 912 1700 and their customer service team will be happy to help.