COMMENTS PLEASE:
Proposed Vodafone Base Station Installation at 185 Redford Road, Colinton, Edinburgh. EH13 9PN
Cornerstone Telecommunications Infrastructure Ltd (Cornerstone) is seeking comments on a new mast which is required for the rollout of Vodafone's 5G service. This will be located at 185 Redford Road, and will be erected close to an existing mast that will, in due course, be upgraded for Telefónica's 5G service. (Cornerstone is a joint venture company owned by Vodafone and Telefónica UK (aka O2) and manages a single grid UK network for these two independent companies.)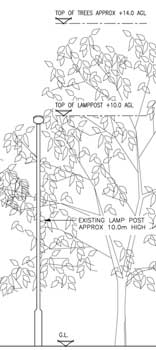 These extracts from Cornerstone's information about the proposed mast have been annotated by the Community Council with indications of its location and visual impact. Full documents from Cornerstone can be downloaded below.

Comments to Cornerstone via: This email address is being protected from spambots. You need JavaScript enabled to view it.
Feel free also to copy comments to This email address is being protected from spambots. You need JavaScript enabled to view it.
FOR REFERENCE, A 20m MAST IS ABOUT AS HIGH AS A SEVEN STOREY BUILDING